Panasonic AG-AC90

HD OK
The three of these are YSTV's newest HD cameras. Mark and Chelsea were bought in May 2014 to replace the broken Sony HVRs, while Linda was bought in June 2015 using money donated by Greg Dyke.
They record at a maximum of 1080p25 to SD card in AVCHD format, making them YSTV's first tapeless HD cameras. Live video outputs over HDMI at a variety of resolutions - crucially, 1080i50 to match the Sony cameras. This requires the use of battery converters to work with BNC cabling. Various flavours of analogue output is also available through use of adapter cable.
Controls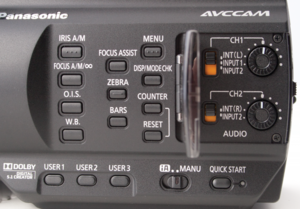 Like the HVRs, the AC90s have a touchscreen display which is used to operate the onscreen menus. However, they also feature a large array of buttons to access key features.
As well as an onboard 5.1 surround microphone, the AC90s have dual XLR inputs - enabling YSTV's stock of handheld and rifle microphones to be connected using standard XLR cabling instead of our custom ones. Controls for setting audio inputs for recording are to the rear of the camera behind the plastic panel, while phantom power can be switched on or off using controls next to the touch screen.
Faults
All the cameras have a three year warranty with Panasonic. The warranties on Mark and Chelsea expire on 17 May 2017, while the warranty on Linda expires 15 June 2018. And additional two year warrenty extension can be bought at any time during the three year period. If the cameras are still working and in use by 2017, it might be worth it!
It is recommended that they should be sent for repair as soon as possible if a fault occurs, as Panasonic promise a 5-day turnaround (else they'll sent a loan camera).
For current and past issues, see the relevant maintenance logs via the equipment list.
External links